http://twangville.com/16658/the-band-of-heathens-sunday-morning-record/

by 
Shawn Underwood
 in 
Acoustic
, 
Americana
, 
Reviews
Sunday Morning Record
.  The title of the latest from The Band Of Heathens does as good a job of describing the recording as just about anything anyone writes.  Those early morning hours when the night before is still ringing in your ears and the warm morning sun commands something a little less energetic and little more introspective.  That portrays the set list here pretty well.
I still tend to think of BOH as a rock-and-roll band from Austin.  Their first two albums were live records.  Who does that anywhere except Austin.  Then they hit the streets with a production from Ray Wylie Hubbard, followed by one where the title song was a tribute to Hunter S. Thompson.  About that time I saw them do a set at Old Settler's Music Festival when a thunderstorm of biblical proportions hit and show management had to pull the power for the stage.  The Heathens proceeded to pick up their acoustic instruments, go to the front of the stage, and finish the set in a downpour.  Dude.  Talk about the show must go on.
Well, just like for the rest of us, life for the band moved on.  Founding member bassist Seth Whitney, and the pounding percussion of John Chipman, left, replaced by new conspirators Trevor Nealson and Richard Millsap.  More than ever, the sound is about songwriters Ed Jurdi and Gordy Quist.  And in the case of 
Sunday Morning Record
, about the changes in their lives.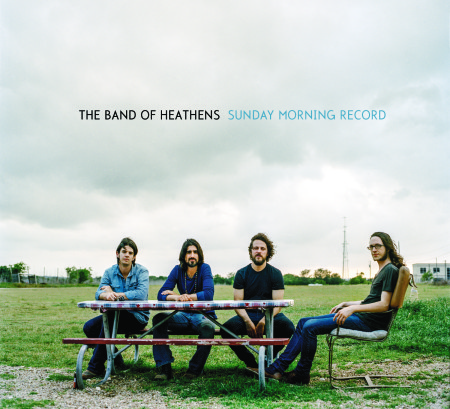 Several songs talk about their lives now and how their perspectives have changed.  
Shotgun
 is a gentler BOH song about "riding shotgun through the past".  
Since I've Been Home
 explores the idea that no matter how true you are to family, being away for weeks on the road changes things.  
Miss My Life
 is just like what it sounds, a reminisce about what used to be.  It's not melancholy, quite the reverse really, a celebration of how great it was.  There are also a few songs that no doubt get the rock treatment when the boys feel like it.  
Caroline Williams
 is a bluesy number about love lost, and 
Shake the Foundation
 is a twist on the story of a cheating girlfriend.
The record finishes with 
Texas
, a love song not for a person, but for a place Jurdi called home for many years.  It manages to convey how much a part of his life Austin was, and yet also that it's time to move on.  Taking that idea to heart, I realized 
Sunday Morning Record
 isn't about what The Band Of Heathens used to be, but rather the future still ahead and that, brilliantly, is what this album is all about